Are You a Good Candidate for Dental Implants?
Posted by JOSEPH J. LEE on Mar 8 2019, 10:25 AM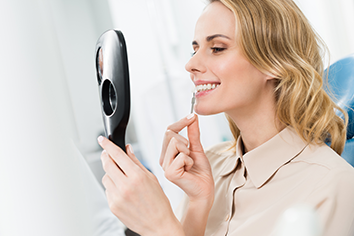 If you're suffering from tooth loss, you may start experiencing loss of confidence, loosening of teeth from the sockets, malocclusion, gaps in your smile, etc. There are several means of restoring missing teeth (bridges, dentures, crowns), but dental implants are considered to be the best and most long-lasting solution to them.
A well-trained dentist would need to assess your teeth and oral health, and after careful diagnosis, the dentist will decide if you are a good candidate for dental implants or not.
What influences your candidacy for dental implants?
Dental implants are a combination of a titanium root and a visible ceramic tooth crown. The titanium root will be fused to the jawbone by placing it in a small hole made at the implant site. However, to place the implant, sufficient jawbone is required, which otherwise could make it unstable.
Extracting a tooth can lead to 30-50% loss of the width of the jawbone where the tooth was removed as the body can't heal the bone faster than soft tissue can grow in. To prevent this problem, a bone graft may be required. This is where bone tissues from a different part of the body, purchased human donor tissue, bone from cows, or synthetic bone will be placed in the tooth socket after removal. This bone will merely act as a scaffold or matrix so that your own bone cells can regenerate the bone to preserve the future implant site.
A patient must have thick and healthy gum tissue for the future implant. If not, sometimes additional minor gum surgery is needed to thicken or provide good tissue.
A patient should be in a good oral health. Factors such as oral infections, gum diseases (gingivitis and periodontitis), severe cavities, failed restorations, etc. could influence the candidacy for dental implants.
Patients with certain chronic diseases, such as severe diabetes, hemophilia, heart problems, etc. may not qualify for dental implants.
Patients who have an issue of bruxism, or teeth grinding, will have to be given additional treatment before or after getting implants.
Women who are pregnant aren't good candidates for dental implants.
Heavy smokers may not be the best candidates for implants.
Why should you choose implants?